December 2nd, 2022
Ibiza Global Radio and LOS40 DANCE warm up December with official BEACH BEATS launch party in Madrid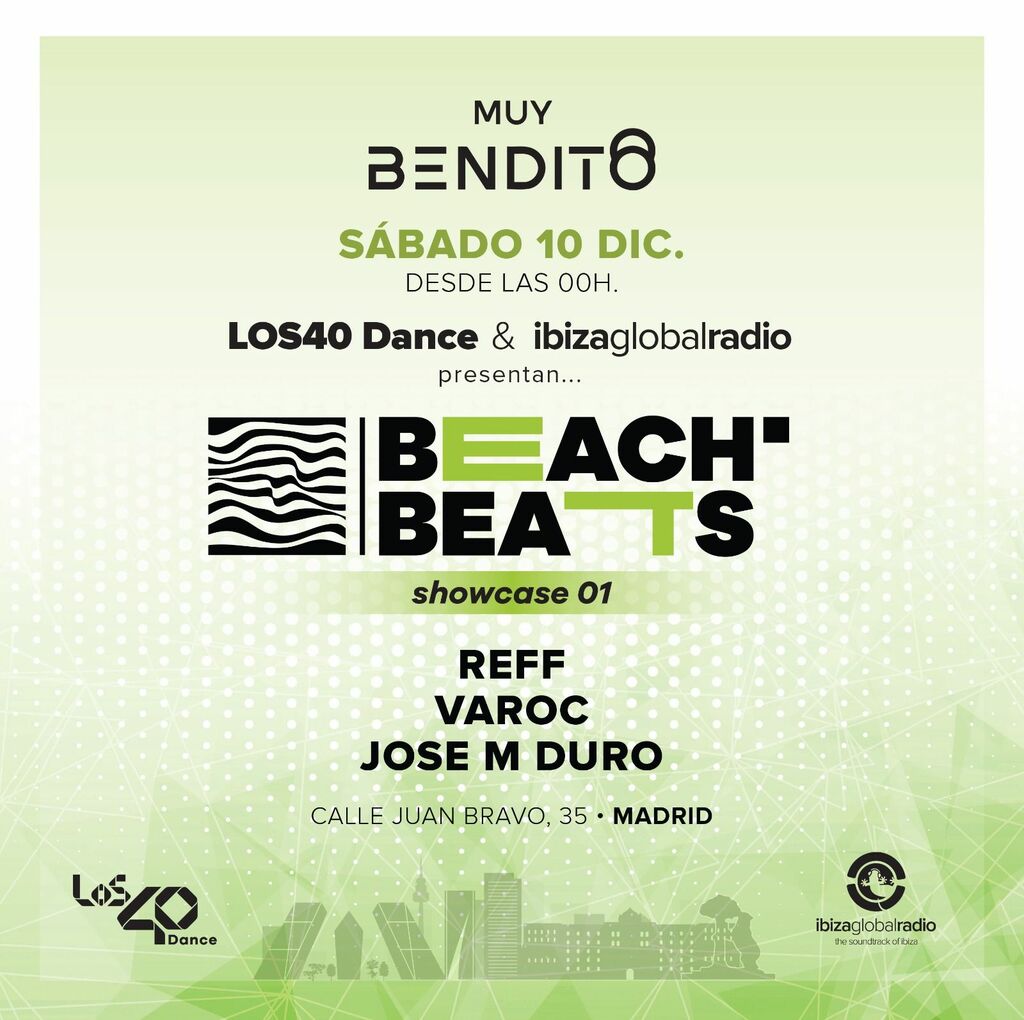 Following a successful introduction on the airwaves in September 2022, Ibiza Global Radio and LOS 40 DANCE are set to host the official launch party for their BEACH BEATS collaboration in Madrid this month.
On Saturday, December 10th, the two radio stations will join forces to celebrate their partnership with a BEACH BEATS showcase at Madrilenian hotspot Muy Bendito in the Salamanca district of the city.
Taking to the decks from 00:00 onwards will be BEACH BEATS resident DJs Jose M Duro, Varoc, and DJ Reff.
Each of the turntable maestros will be bringing their interpretation of the genre-spanning BEACH BEATS sound to the party, ranging from Organic House, Deep House, Tech House and Melodic Techno to other styles of electronic music.
Spread across 600m2 with a variety of different rooms, the stylish Muy Bendito is the perfect place to get your groove on to the sound of Ibiza. With the DJ booth and avant-garde music robots taking centre stage, prepare to hit the floor for an unforgettable fiesta with the Ibiza Global Radio and LOS40 DANCE crew!
Can't make it to the party? Tune in seven days a week on Ibiza Global Radio via 100.8FM, the IGR app or www.ibizaglobalradio.com OR 92.4FM on LOS40 DANCE to catch BEACH BEATS on the airwaves.
The collaboration is a big step in the Ibiza Global brand's continuous international expansion.
Part of the renowned Grupo Prisa media conglomerate, LOS40 offers an average of more than 20 million hours of content to almost 6.5 million monthly listeners across its various platforms.
Globally, the network has 51.7 million social media followers across the LOS40 profiles dedicated to its countries of transmission, popular shows and top hosts.
Come and celebrate one of 2022's most exciting new partnerships with us while letting lose to the best electronic music – from Ibiza to the world!